The best laid plans of mice and tourists...
The morning, we awoke to the sight of puddles outside - it had rained overnight. And it was kind of chilly - not too many degrees above freezing. So we decided to wait until it warmed up a bit. Stephen took the opportunity to do some shopping for some cool tech toy, and I just relaxed in the hotel room, computing and reading.
We walked to a nearby Mexican food place for lunch, and decided that it was warm enough for a short venture somewhere.
Because last night we were researching some easy walks nearby, and came across a whole lot of walks along the shores of nearby Canyon Lake, the big L-shaped lake on the right of this Google Maps shot:
So off we drove.
And very quickly learned that the lake was part of a gated community. And we were definitely not welcome there (although the security guard at the gate was pleasant enough!!). There is no public access to the lake.
Rats.
So we went to a nearby shopping center parking lot to ponder our next move.
With his magic iPhone and the maps thereon, Stephen found a green blob a few miles away that looked large enough that it just might have a trail or two on it.
So, off we went. And discovered the Roy W Kabian Memorial Park, 640 acres of hiking trails. From the website: "The park was started in 1968. It was bought with money donated by Madeline Kabian with the provision that the park be named for her deceased son Roy. Not much information is known about Madeline or Roy."
The park has a playground, some picnic shelters, and a toilet with real plumbing. And easy access to hiking trails.
So we were able to accomplish our goal of getting some outdoor exercise today. Not a whole lot, but I was ready for a rest day anyway.
The red blob on this Google Earth shot shows where we did our little hike.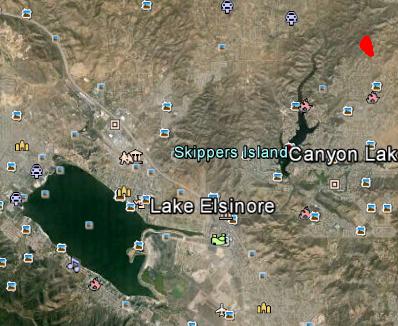 This shows our track in more detail. Notice the hills.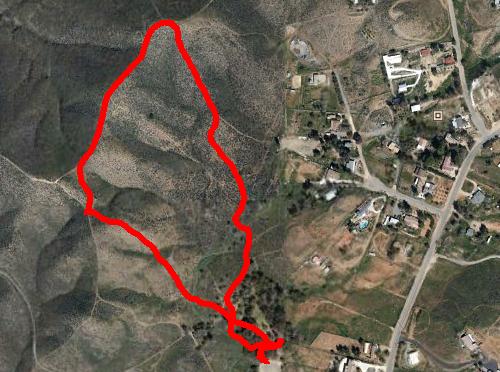 And this shows our elevation profile. Not a lot of elevation change, but enough to give us a bit of a cardio workout on the uphill, and more than enough to cause me to really slow down on the downhill.