Getting there
Last night, Stephen's research uncovered a relatively easy trail not too far from the hotel (about a half hour's drive) in the Cleveland National Forest. So today, we decided to go for it.
You may recall those sunset photos that I posted yesterday. Well, the sun was setting on the other side of the mountains against which the city of Lake Elsinore abuts. And that's where the trail is - the other side of the mountains.
We had noticed a highway snaking up those mountains earlier. And today we got to drive it.
It reminded me of the Kicking Horse Pass of a few decades ago, long before they did any widening and straightening!
First, I'm going to show you a Google Maps view of the portion of the Ortega Highway that we took. All those really tight loops have quite a bit of elevation change associated with them.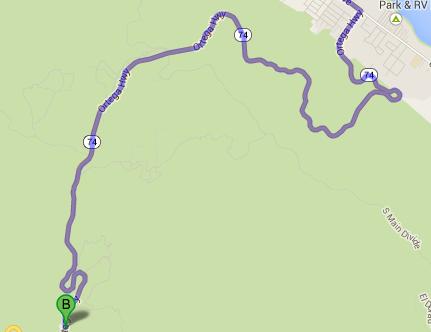 And here is a Google Earth view of the Ortega Highway, slanted and pointing towards the mountains. The yellow arrow points to the highway. You can see it climbing the mountains. (The red blob in the back is our track for today - more on that later.)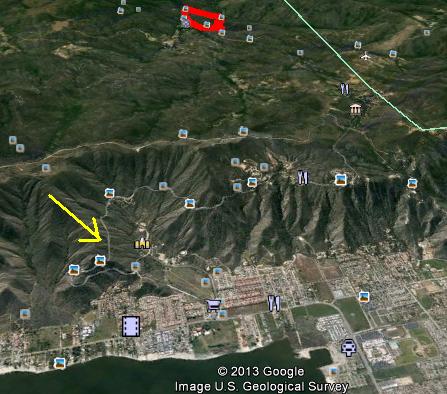 Fortunately, there are a number of turnouts on the highway, as well as lots of signs telling slow drivers to use those turnouts to let others pass.
All in all, a cool drive!