Jan 28 - Trying to walk the lakeshore
Some people labour under the delusion that if there is a lake that is considered a recreational area, there is also the possibility of walking around it - or at least around some portion of it.
These are the kinds of people who would look at the Google Map of Lake Elsinore, eyeball all of that green, and head for the green space, believing in their heart of hearts that this would provide an opportunity for a pleasant lakeshore stroll.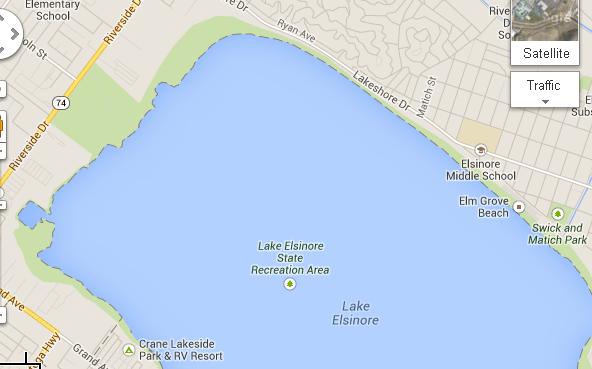 They would be wrong! At least in lakeshore-stroller-unfriendly Lake Elsinore. Because those green spaces turn out to be RV resorts and boat launches and gated places. You cannot get to the lakeshore, even if you could find a place to park (a whole lot of NO PARKING signs here).
Even an area such as the top corner of the lake, where the pink arrow is pointing in this Google Earth shot, is inaccessible.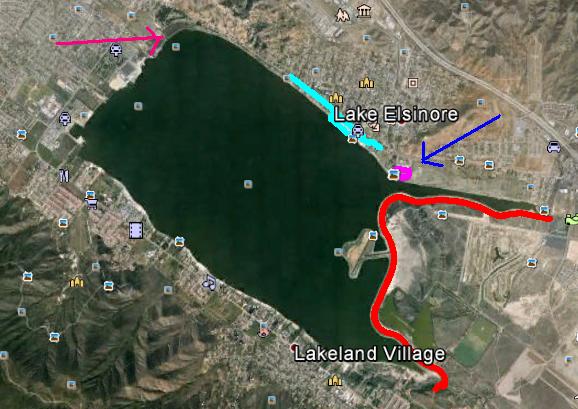 So we decided that perhaps we really wanted to walk the levee again - well, not really, but it seemed the only way we could get some lake-side walking in.
But as we were heading towards the levee, we came across a sign that pointed to a park, with parking, by the lakeshore. (See the blue arrow in the pic above.) So we investigated.
It turned out to be a fairly small green space with play area. The park seemed to be associated with the local senior center.