Today we started our journey home. Through our home webcams, we have observed the snow disappearing from our back yard - then it reappeared last night. This is not promising!

We are spending one night in Palm Springs, because our flight leaves from here tomorrow at noon. It was almost 90 degrees F here this afternoon!! Which makes the aforementioned snow a bit disheartening!

I had sort of assumed that today would be an easy-on-the-knees day.

But as we were approaching Palm Springs, we saw the sign pointing to the Palm Springs Aerial Tramway. So we decided what-the-heck! We had time to spend on a tourist attraction. And we figured it might be kind of interesting.

What an understatement!

First, there's the drive from the turn-off to the tram parking lot, during which we go from under 200 m elevation to over 800 m. Then the tram takes us up to about 2500 m. That's higher than the Highwood Pass in K-Country!

We were not surprised to learn that the whole tramway setup was a marvel of Swiss engineering. We had already learned that the Swiss really do know how to deal with mountains, whether punching through them or getting to the top of them.

The tram itself was cool - it holds 80 people, all of whom are jostling unnecessarily for the best spot to stand. Unnecessarily, because we were standing on a revolving floor - so everyone got a 360 degree view of the surroundings! Aaah, those Swiss!

At the top, there are 54 miles of hiking trails. We found one that was a 1 1/2 mile loop, called the Desert View Trail.

But first, we had to walk down a looooooong concrete ramp. With switchbacks. Going down 40 m! In the space of about 350 m of length. Fortunately, the slope was reasonably gentle.

After our hike, we had to go back up this ramp to get back on the tram going down.

This first shot is from our mapping software. Notice how close those topo lines are. The two flags are at the top and bottom of the ramp. The tram went northeast of the flag numbered 006. The total hike was 3 kms.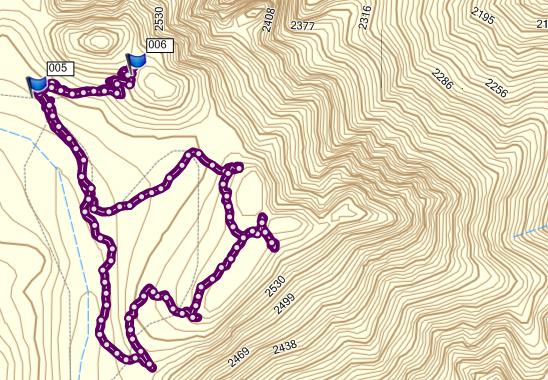 For this Google Earth shot of our hike, I twisted and tilted it so that you could get a sense of the mountain that we were on top of. Our hike is that little blue blob near the top.
For more information, check out the Palm Springs Tramway website.