Mar 27 - South Poway Trail again
Having discovered this thing called the South Poway Trail yesterday, Stephen did the appropriate research, and discovered that this is really a lengthy trail system. So we decided to do the west end of it. Stephen found a place on Google Earth that looked like a parking spot, so that's where we headed. It turned out to be a church parking lot, but since it's Wednesday, we figured there wouldn't be any issue.
Our first challenge was to get from that parking lot to the trail. Fortunately, we had a GPS route of the trail, and we could tell that we weren't far away. So off we trekked.
Our route basically started at the church and headed due west until we were just about under the I15 freeway. We found a cool place to have lunch (more about that later), and after lunch, Stephen did a bit more walking and found that the trail actually continued on the west side of the freeway. But since that's not part of Poway, I guess it's not part of the South Poway Trail!
On our outbound trek to the freeway, we observed a hill that appeared to have a rough path going up to a flag at the very top. On the way back, Stephen decided that he just had to take the direct route, while I skirted the hill.
So here are the Google Earth views for both of our tracks. Mine is first (because I'm writing this!!) The red dot on my view is where Stephen's hilltop is.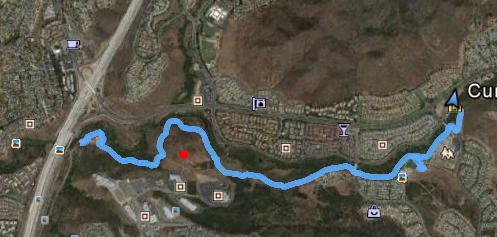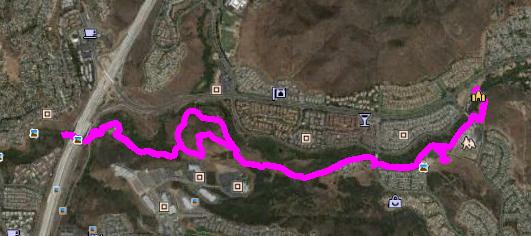 This map view shows our general area: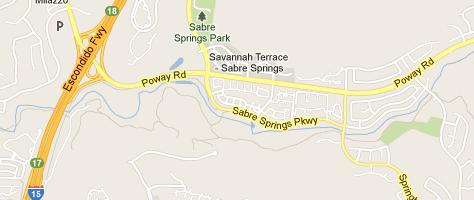 And this shows MY elevation profile. Not a whole lot of elevation change - 30 meters in 4.6 kilometers is really nice on my knees.