Mar 24 - the trip
After an incredibly pleasant airport and flight experience (boggles the mind!!), we landed in Palm Springs, hopped into our rental car, and drove to the thriving metropolis of Poway, about 2 hours away.
The reason for this drive: we couldn't find a direct flight to San Diego, which is a whole lot closer to Poway. Then we figured that it would be about an hour from San Diego to Poway anyway, so by adding an hour of driving time, we eliminated a 3 hour (or more) wait at either Seattle, Los Angeles, or San Francisco.
This map shows the basic geography: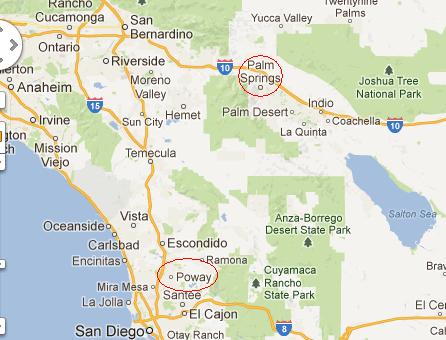 We drove northwest of Palm Springs, and then south to Poway.