At the end of the levee, somewhat after the 3 mile mark (so much for my 10km calculation), we came to Rome Hill. For normal people, this would have been a good turn-around point. Especially if that normal person was one whose arthritic knees had already walked more than 5 kms.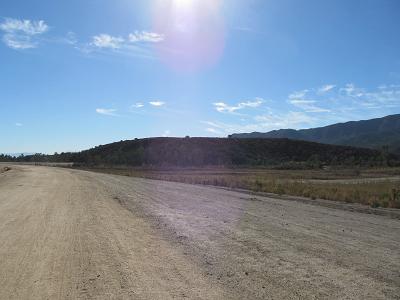 But we're not normal!
Because there is a geocache at the top of the hill.
After lengthy debate, during which we discussed the quality of what appeared to be the best trail to the top, we started ascending.
About 2/3 of the way up, the more sensible one of us (ok, the one that was hurting more) thought that a turn-around might be in order. The other one of us kept on climbing, aiming for the cache. These shots show what made me turn around.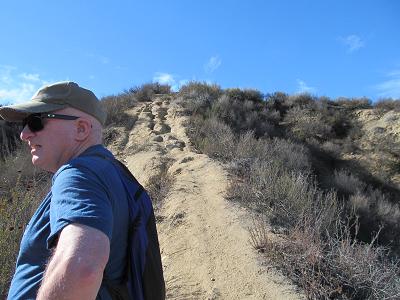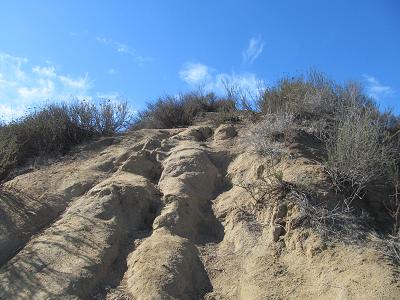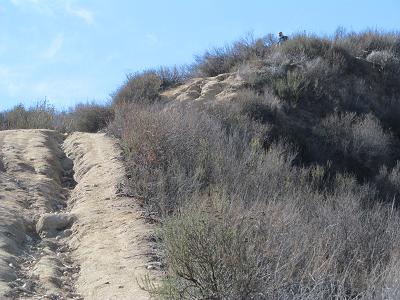 The red arrow on this photo, taken from a distance, shows about how far I went.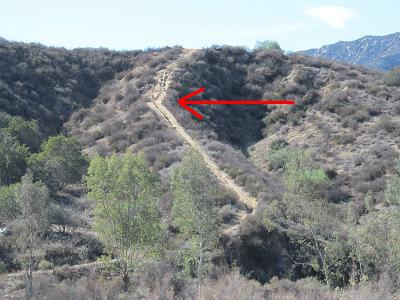 But before I turned around, I took these photos of the view from a bit above lake level.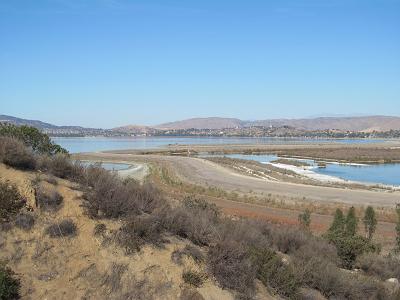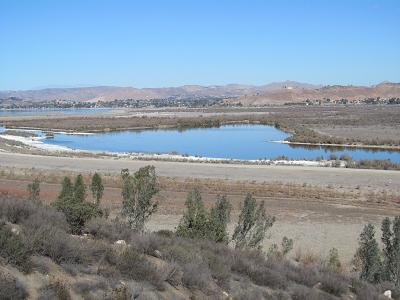 The red arrow on this photo points to our hotel.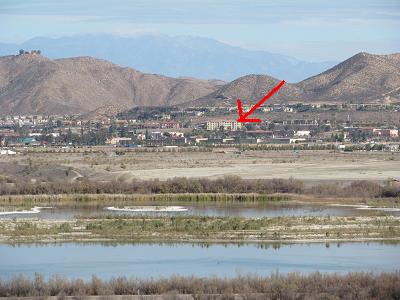 After hunting around a bit at the top, Stephen declared defeat - he couldn't find the cache within his standard 3 minutes, so down he came - passing me on the downhill, too (I really go slowly down hills, especially when they are slippery sandy).
Anyway, that climb explains the spike in that elevation profile above.
And this is me on the levee. I like having an I-was-here shot!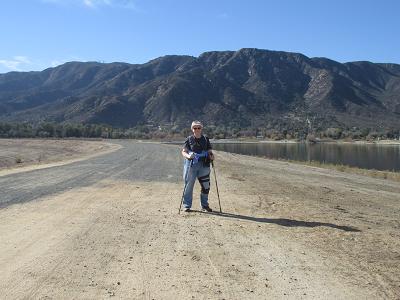 So we headed back to the car. When we were about 2 kms from the car, when my GPS said that we had gone 10 kms, I really slowed down. So I suggested that Stephen walk closer to his normal pace, head for the car, drive to the local Walgreens, pick up a cool drink or two, and theoretically by the time he returned to the parking spot, I would have arrived. Well, I was still about 100 m away when he returned. But he came to meet me with a cold drink, which was exactly what I needed then.
So then he drove me back to the hotel, where I sat and computed. Four hours and 23 minutes of walking takes its toll on my knees. He went to the local Pizza Hut and brought back a pizza. Then he went to the grocery store to get some more bottled beverages.